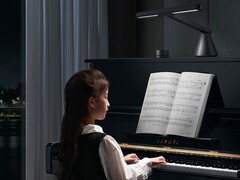 Xiaomi Mijia Smart Piano Light is crowdfunding in China. The campaign has already been supported by 300 people, which means that the project has reached 419% of its financial goal. The light, 460 mm (~18-inch) long, can illuminate your score and all 88 keys on your piano. An integrated longitudinal TIR (terminal imaging radar) ensures that the light is directed away from your face and avoids glare.
You can also use radar detection to automatically turn on the LED light when you arrive at or leave the instrument. The detection sensitivity, distance and time delay can be configured in the Mijia app, where you can also see a record of your exercise time based on the same sensor technology. Alternatively, you can control the smart piano light with Xiaomi AI voice commands or a remote control. The remote control, which acts as a metronome, can be used to adjust the brightness and color temperature of the light.
You can recharge the remote control via USB-C with an expected life of 62 days on a single charge. Presets include a focus mode with a 5000K cool white light or a softer 4000K neutral light, which may be better for tired eyes. Customers in China can pledge 699 yuan (~US$100) to the Xiaomi Youpin crowdfunding campaign to receive the gadget. The product page lists the device's MSRP as 999 yuan (~US$144). It is unclear if Xiaomi intends to launch this product globally.

I have been interested in technology for as long as I can remember. From a young age I have loved gadgets and understanding how things work. Since graduating, I have worked for several technology companies across FinTech, AdTech and Robotics.